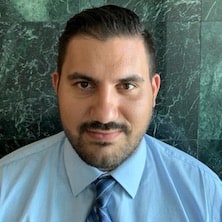 Nick Chotos
Attorney
Nick Chotos is an experienced Florida expungement lawyer who may be able to help you obtain expungement or sealing of your criminal record. He has helped expunge criminal records for thousands of people throughout the state. His sole focus since he was admitted to the Florida Bar has been criminal defense. Prior to joining Hanlon Law, he gained a reputation as a zealous advocate while working as a lead trial attorney at one of the largest criminal defense firms in South Florida.
Mr. Chotos graduated with a Bachelor of Arts degree from Florida State University in 2011 and a Juris Doctor degree from the St. Thomas University School of Law in 2014. He is admitted to practice in Florida. He was honored to be named a Rising Star in Super Lawyers in 2019 and to receive a 2015 BACDL Hat Trick Award for three consecutive not-guilty verdicts. Mr. Chotos believes that each of his clients is entitled to his personal attention and prides himself on the relationships that he builds with them. If you are eligible, Mr. Chotos may be able to help you expunge or seal your criminal record, and this can make it easier to protect your reputation and take certain steps, such as renting a home or getting a professional license.
In most situations, once your record has been expunged or sealed, you will not need to disclose the record. You are permitted to lawfully deny or fail to acknowledge the record, except in rare circumstances. Although many people use the terms "expungement" and "sealing" interchangeably, these are distinct processes governed by different code sections. Generally, if a record is expunged or sealed, most prospective employers will not be able to access the information in the record.
When a criminal history record in Florida is sealed under section 943.059, the public will not be able to access it, but certain government agencies still will be able to look at the sealed information. When a record is expunged by an order of the court under section 943.0585, on the other hand, it is physically destroyed by criminal justice agencies. A confidential copy is kept with the Florida Department of Law Enforcement (FDLE). Generally, it is treated as if the incident did not occur, but the entities that would have had access to the record if it were only sealed will see a notation that a record has been expunged.
Not everyone is eligible for court-ordered expungement or record sealing. However, court-ordered expungement is not the only type of expungement. Depending on your circumstances, there are several other types of expungement for which you may be able to apply, such as administrative expungement, lawful self-defense expungement under section 943.0578, human trafficking expungement under section 943.0583, and early juvenile expungement under section 943.0515(1)(b)(2).
Each of these types of expungement involves different procedures. To obtain a lawful self-defense expungement, for example, no charging document may have been filed, or if it was filed, the prosecuting attorney or the court must have dismissed the charge based on a finding that you acted in lawful self-defense according to the provisions governing the justifiable use of force in Florida Statutes chapter 776.
Sometimes people are arrested by mistake or contrary to law. In those situations, administrative expungement may provide the appropriate relief. Your application for this type of relief needs to include the time and date of the arrest, your name, the offender-based tracking system number, and the crimes charged. The application needs to include an endorsement from the head of the arresting agency or the state attorney of the judicial circuit in which you were arrested, or it should include a court order finding that you were mistakenly or unlawfully arrested.
Often, people with criminal records find it difficult to get a job, rent a home, or obtain a professional license. Years after an incident, they can still face hardships. Record sealing or expungement may help. If you are interested in sealing or expungement in Florida, you can talk to Nick Chotos. Call Hanlon Law at 800.373.1974 or contact us through our online form.
Education
B.A., Florida State University, 2011
J.D., St. Thomas University School of Law, 2014
Jurisdictions Admitted to Practice Florida